Product Announcement: Liberty Bottleworks Water Bottles
Posted on March 27, 2014 by Gifts by Genius in Store News.
Introducing Custom Liberty Bottleworks Water Bottles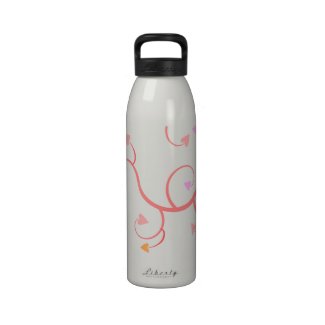 Valentine's Romantic Heartfelt Connections Vine Drinking Bottles
by
inspiredbygenius
Design your own
custom water bottles
at Zazzle
Get a bottle that matches your style! With 13 unique colors and 2 size options, these bottles are a great way to show off your favorite photos, text, and designs while drinking 100% BPA free water. Thought-up, designed, and produced in the USA, Zazzle's Liberty Bottleworks bottles are made with the utmost attention to detail to ensure a high quality water bottle.
Socially Conscious
Liberty BottleWorks bottles are the only American made metal water bottles. Each custom Liberty bottle is produced in Yakima, Washington to the highest quality and printing standards.
Environmentally Aware
Help protect the environment with a 100% recycled aluminum water bottle. Made in a state-of-the-art factory, these recycled aluminum water bottles are produced with less energy, recycled/cleaned water, and the least amount of waste possible.
Safe
Spending too much money on disposable water bottles? Be green and save some green – join the reusable water bottle movement! Reusable water bottles are a great way to keep your hydration level high without spending extra money on disposable bottles. Plus Liberty Bottleworks bottles exceed the FDA food container standards for non-leaching products and all bottles are 100% BPA free.
Satisfaction Guaranteed
If you are not satisfied with your custom Liberty Bottleworks water bottle for any reason, simply return your purchase for a replacement or refund within 30 days of receipt.
We currently offer motivational, artistic, special occasion, and humorous water bottle designs.
Key Custom Liberty Bottleworks Water Bottles Features
Made in the USA with a sustainability focus in Yakima, Washington
100% BPA free recycled aluminum
13 unique bottle color choices
24oz and 32oz sizes
Dishwasher safe (Hand washing recommended to preserve artwork)