What to Keep in Your Baby's Diaper Bag
Posted on May 20, 2016 by Gifts by Genius in Blog Posts.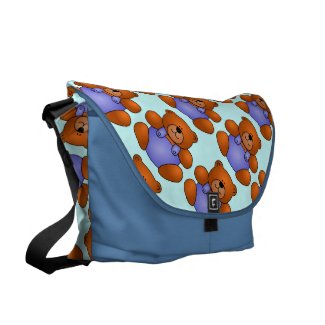 Blue Teddy Bears Messenger Bag by inspiredbygenius
View more Rickshaw messenger bags.
A diaper bag is one of those essentials that most Moms would be lost without. When you want to take an excursion out of your home with a small baby, there's no telling what you might need. A good diaper bag can hold everything you might need while out and about with your baby including diapers, baby wipes, diaper rash ointment, baby powder, spare clothing, bottles, food, and morel
Of course, the most important item in a diaper bag is a supply of diapers. If you need to, you can carry up to a dozen of the thickest diapers in a diaper bag. In another large compartment of the bag you can put in several changes of clothes. Some other useful things to put in the bag are bibs, baby cups, burp cloths, washcloths, a blanket, pacifiers, toys, snacks, food (along with utensils for feeding) and baby bottles. A towel to use as an "anywhere" changing pad is another essential item. In fact, anything that you need to use on a daily basis should go into the diaper bag. But keep in mind that all that "stuff" in your diaper bag can make it really heavy so if you are going to have to be carrying it for a long distance or are only going on a short trip, make sure to just pack the essentials.
It is a good idea to keep your diaper bag at least partially ready all the time. Some people have diapers, pacifiers, blankets, an extra set of clothes, and toys stashed away in their diaper bags permanently.